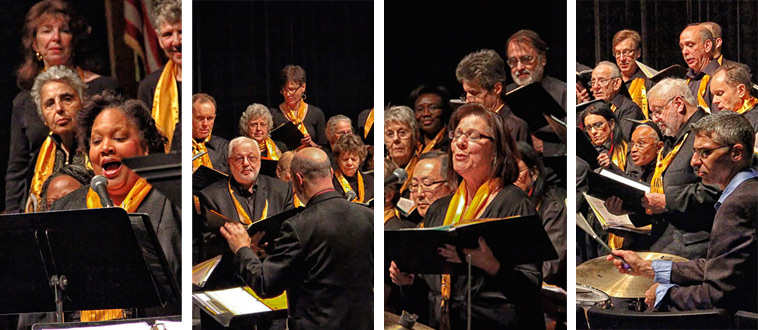 Photos by Leslie Young
The Teaneck Community Chorus was founded in 1999 to help bring the community together in celebration of diversity. Now, more than ever, we all need to learn to sing together, listen to one another and respect our differences. For its efforts, the Chorus received Teaneck's highest honor for community relations: The 2013 Matthew Feldman Award.
» Our History & Mission
Artistic Director: Steven Bell Pianist: Beth Robin
---
Letter from the President:
Welcome:
It's our 15th season and the chorus is excited about the musical themes we will be celebrating at our winter and spring concerts. And, once again, our annual Teaneck Teen Idol competition will highlight our talented teens.
As the recipient of the 2013 Matthew Feldman Award for outstanding contributions to the Teaneck Community, TCC continues to exemplify the diversity that is Teaneck through song and our commitment to good causes!
Please spread the word that the Teaneck Community Chorus is making great music and producing wonderful shows!
Finally, please show your support for TCC with your tax-deductible contribution during our fall fundraising campaign – November 1 through December 31. Click on the Indiegogo link on this page and make your pledge! See you at our concerts!
Pamela K. Zeldin, President
Teaneck Community Chorus
2013-2014:


A Season to Hit All the Right Notes!
Teaneck Sings Week
January 18-26, 2014
January 18


TeaneckTeen Idol Competition

Celebrating diversity isn't just about honoring different cultures and beliefs – it's multigenerational too. more »
JanuAry 20


MLK Jr.

Join the chorus and Bergen county in a celebration of the life and contributions of Dr. Martin Luther King Jr.
January 26


Winter Concert: That's Amore! Love Songs from Around
the World

Our winter concert celebrates – through song and poetry – the sweetness and joy that is love.
details and concert poster »
May 18, 2014


Spring Concert:
Fire and Rain

The year is 1970. The changes that marked the sixties are coming to an end and times are changing fast. more »