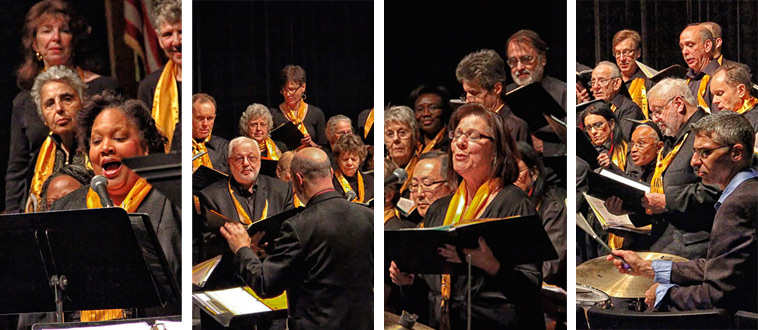 Photos by Leslie Young
The Teaneck Community Chorus was founded in 1999 to help bring the community together in celebration of diversity. Now, more than ever, we all need to learn to sing together, listen to one another and respect our differences. For its efforts, the Chorus received Teaneck's highest honor for community relations: The 2013 Matthew Feldman Award.
» Our History & Mission
Artistic Director: Steven Bell Pianist: Beth Robin
---
Letter from the President:
Welcome to the 19th season of the Teaneck Community Chorus. As we move closer to celebrating 20 years, we continue to be excited about music and the community we serve!
This November we are proud to be a sponsor of the Teaneck International Film Festival. The films Body and Soul and Strange Fruit show us cross-cultural collaboration and important social issues in our history that are relevant to the Chorus mission today.
In January, the Chorus continues its Teaneck Teen Idol competition – where Teaneck's talented teens from a range of schools can meet and showcase their talents.
The following weekend is our winter concert. "Music Lessons: Broadway's Words of Wisdom" highlights some of life's most important messages in ways only possible through music. We are looking forward to singing with the choruses of Teaneck High School, and to our special guest, Nellie El Hadad, 2017 Teaneck Teen Idol.
In the spring, we bring you the blues! "We've Got a Right to Sing the Blues" will explore the origins and evolution of the blues and its influences on R&B, rock & roll and jazz.
We will continue to provide music to the community with performances at the MLK service, Memorial Day Celebration, and performances at 5-Star and Puffin in 2018. We are looking forward to another cabaret on March 3, 2018 with special featured artists.
See you at our concerts and events! Please show your support;
give securely via PayPal
!
Gail Smith, President
Teaneck Community Chorus
2017-2018
Teaneck Teen Idol Contest
Saturday, Jan. 20, 2018 – 8 pm
Teaneck High School
The Chorus welcomes special guest judge Felicia Temple from The Voice and the first Teaneck Teen Idol, and emcee Anthony Johnson of Eyewitness News Channel 7 WABC-TV and Teaneck resident.
» See list of contestants & info
Winter Concert


Music Lessons: Broadway's Words of Wisdom

Sunday, Jan 28, 2018 – 3 pm
Teaneck High School

A concert of inspiring, memorable Broadway music– with messages that will give us all something to think about. We will be joined by Teaneck High School Choirs and the 2017 Teaneck Teen Idol: Nellie El Hadad