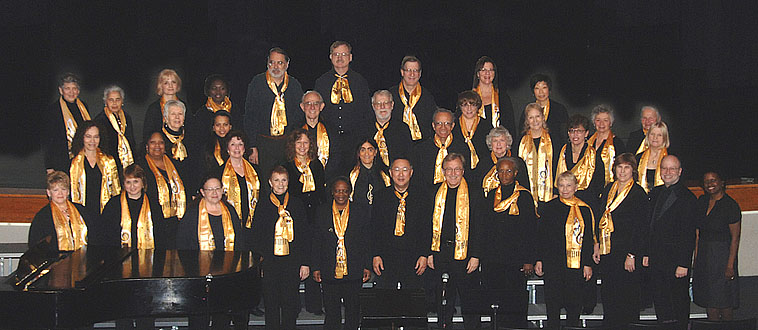 The Teaneck Community Chorus was founded in 1999.
The vision statement says: The Teaneck Community Chorus reflects the diverse population of Teaneck. Its aim is to be attractive and enjoyable for those participating, and to bring the community together in celebration of our diversity.
» Our History & Mission
Artistic Director: Steven Bell
Pianist: Beth Robin
---


We gratefully thank all people and organizations who have been so generous in their support of Teaneck Sings! Week and the Teaneck Community Chorus.
Upcoming Events
Spring Concert
The Singing Cure:
A Choral Festival
Saturday, June 1, 2013 8:00 PM
Teaneck High School
Elizabeth Avenue
Teaneck, New Jersey 07666
A very special event: a choral workshop led by our long-time friend Nick Page, followed by an evening festival featuring New Jersey choruses singing selections reflecting the theme of music and healing.
The Teaneck Community Chorus will host a diverse group of choruses.  Performing will be the Children's Chorus of Sussex County, Olympia's Daughters, a women's a cappella group from North Plainfield, NJ, the Madrigals from Teaneck High School, Teaneck Community Chorus, and special guests, Nick Page's Mystic Chorale from Boston.

Beginning at 1 p.m. the choruses will work with Nick Page on choral technique, and will rehearse their individual selections for the evening concert. Following a catered dinner, all the groups will present a concert at 8:00 p.m. The concert will also feature a new piece by Nick Page commissioned by the Chorus for this occasion.

Not to be missed! Be sure to purchase tickets early.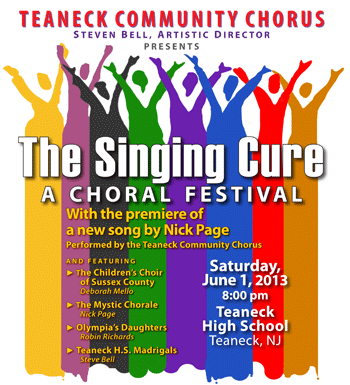 ---
TICKETS:
In advance: $17 Adults, $14 Seniors, $5 Students
At the door: $20 Adults, $15 Seniors, $5 Students
Teaneck High School is located on
Elizabeth Avenue
Teaneck, New Jersey 07666