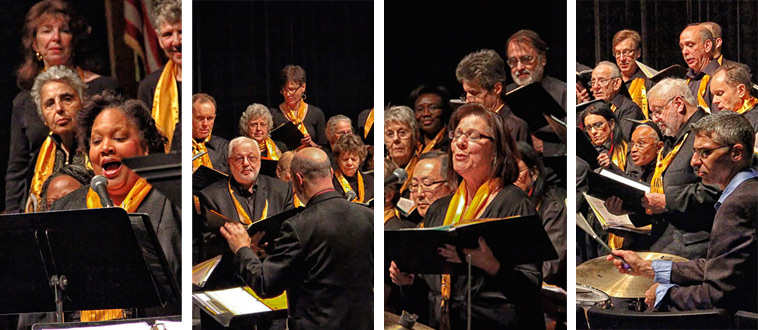 Photos by Leslie Young
The Teaneck Community Chorus was founded in 1999 to help bring the community together in celebration of diversity. Now, more than ever, we all need to learn to sing together, listen to one another and respect our differences. For its efforts, the Chorus received Teaneck's highest honor for community relations: The 2013 Matthew Feldman Award.
» Our History & Mission
Artistic Director: Steven Bell Pianist: Beth Robin
---
Summer Sings!
Sunday, July 20 and Sunday, August 10 at 7 p.m.
Come sing along with us and hear the music we will be trying out for our 2014-2015 musical season! Light refreshments will be served, so join us and experience the joy vocal music brings to all who participate!
All singers of all ages are welcome.
Ethical Culture Society
687 Larch Avenue
Teaneck
Please RSVP to Sue Akiska at 201-836-2934 so we can have music for you!
Letter from the President:
Welcome:
It's our 15th season and the chorus is excited about the musical themes we will be celebrating at our winter and spring concerts. And, once again, our annual Teaneck Teen Idol competition will highlight our talented teens.
As the recipient of the 2013 Matthew Feldman Award for outstanding contributions to the Teaneck Community, TCC continues to exemplify the diversity that is Teaneck through song and our commitment to good causes!
Please spread the word that the Teaneck Community Chorus is making great music and producing wonderful shows!
Finally, please show your support for TCC - give securely via PayPal! See you at our concerts!
Pamela K. Zeldin, President
Teaneck Community Chorus
2014-2015
The chorus is planning the musical themes for our 16th season.
Please check back for announcements about our exciting concerts for the 2014 - 2015 season.